The latest instalment in Vasily Petrenko's highly acclaimed cycle of the Shostakovich symphonies offers a telling flashback to the composer's youth.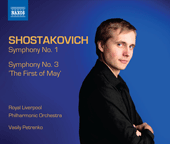 Symphony No.1 – his sensational symphonic debut – is, according to Petrenko, a whistle-stop tour through revolutionary Petrograd with Shostakovich donning the masks of comedy and tragedy in practical pursuit of his already highly developed sense of irony.
As Petrenko explains to Edward Seckerson, the really big influence here is Stravinsky's Petrushka, (as witness the devilishly flashy solo piano part) and there is something of the feel of a silent movie in the flickering imagery. Symphony No.3 "The First of May" offers a rather more prescribed view of the Revolution with its brassy choral paean redolent of those striking propaganda posters.
Album Details…
Catalogue No. 8.572396
Podcast: Download (Duration: 18:43 — 28.6MB)